Pam and the Kitchen Jam LIVE band.

Interactive, Lively, and Entertaining Family Concerts

Pam is a nationally recognized family entertainer. Bring Pam to your town's family event for a fun show full of audience participation today!
---
Reviews
"Our families were mesmerized by Pam's performance. Her music is fun, interactive and engaging. She has a wonderful selection of songs and her warmth can be felt with each strum of her guitar."


— Vivien Braly, Program Coordinator, The PJ Library of the San Francisco Bay Area
"It was wonderful having Pam Donkin at the Jewish Community Library of the Bureau of Jewish Education in San Francisco. It was lovely seeing grandparents, parents, and children, all singing, laughing, playing, and listening, together. The Library puts on many events throughout the year, and the childrens events, such as the one with Pam, are a highlight of the season."


— Allison J Green, Program Coordinator, BJE Jewish Community Library
"Your music was delightful and we have had nothing but glowing comments about your participation in the Stand for Children rally. It is with deep appreciation that I say "Thank You!" for helping us make the rally a success and for your continued commitment to All Children."


— Mary Ellen Haley, Associated Director,
Community Coordinated Child Development Council, Santa Clara County
---
Join award-winning, singer/songwriter, and recording artist, Pam Donkin as she works her interactive musical magic in this lively music show for children of all ages. Drawn by Pam's irresistibly warm, friendly voice and charismatic performance style, families will sing along, play in a kitchen band jam and dance with scarves to upbeat original and traditional songs.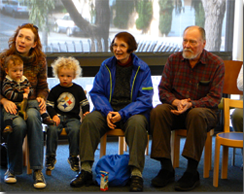 ---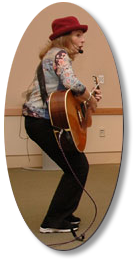 Past Notable Family Concert Venues:
Bay Area Discovery Museum, Sausalito, CA
Sharpsteen Museum, Calistoga, CA
Tupelo Hall, Londonderry, NH
Steamer No. 10, Theatre, Albany, NY
Children's Discovery Museum of San Jose, San Jose CA
Riverfest, Little Rock, Ak
Peanut Butter and Jam, Richmond VA
San Diego Wild Animal Park, San Diego, CA
San Francisco Zoo, San Francisco
de Young Museum, San Francisco
Steinhart Aquarium, San Francisco
Pottery Barn, various SF Bay Area
Gymboree, various SF Bay Area
Happy Hollow Park & Zoo, San Jose, CA
Cesar Chavez Park, San Jose, CA
The PJ Library of the San Francisco Bay Area